Present Past - International Order of Foresters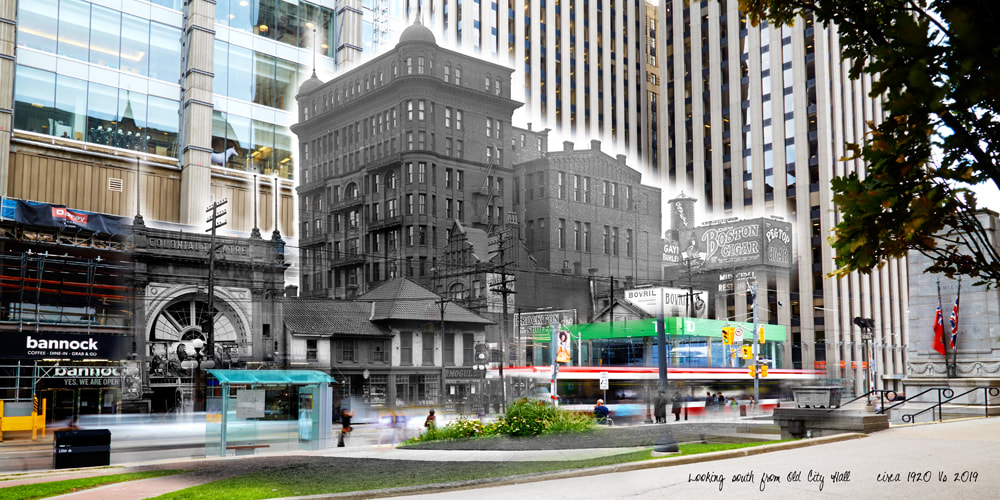 The Temple Building was Toronto's first skyscraper. Built in 1895, it sat on the northwest corner of Bay and Richmond streets. This was the beginning of the transformation of the district to office spaces.
Built with a cast iron frame, George W Gouinlock's design also included thick brick and stone walls. Thickness of the walls at the base were 4'3".
The 1960's saw a boom that kept growing through to the 1970's. With this came increasing demand for more office space and the IOF Building was seen as a relic. Due to it's prime location and high assessment rate it was economically impractical to preserve. It's fate was doomed. June 1970 saw the last of it's tenants leave and demolition begin, lasting six months.
One cannot discuss this building without acknowledging the impact of Oronhyatekha, the Supreme Chief Ranger of the IOF . Born in 1841 near Brantford, Ontario in a Six Nations Reserve he became the turning point for the organization.
At nineteen years of age he gave an address welcoming the Prince of Whales. He made such an impression the prince arranged to have him study at Oxford. He continued his studies upon his return at the University of Toronto to become Canada's first aboriginal doctor in 1867. He then joined many community groups including the Masons, Good Templars and Orange Order. The IOF welcomed him in 1878 after making an exception to their rules.
By 1881 Oronhyatekha was elected Supreme Chief Ranger of the IOF. He brought the organization from the brink of collapse to be a North America's leading fraternal benefit society. Due to his tireless efforts he brought about an incredible growth in membership and investments in the IOF. When he passed in 1907 it made front page news.
Looking south from Old City Hall circa 1920 Vs 2019
City of Toronto Archives, Fonds 1244, Item 0515