Ways to Explore Toronto's History this Summer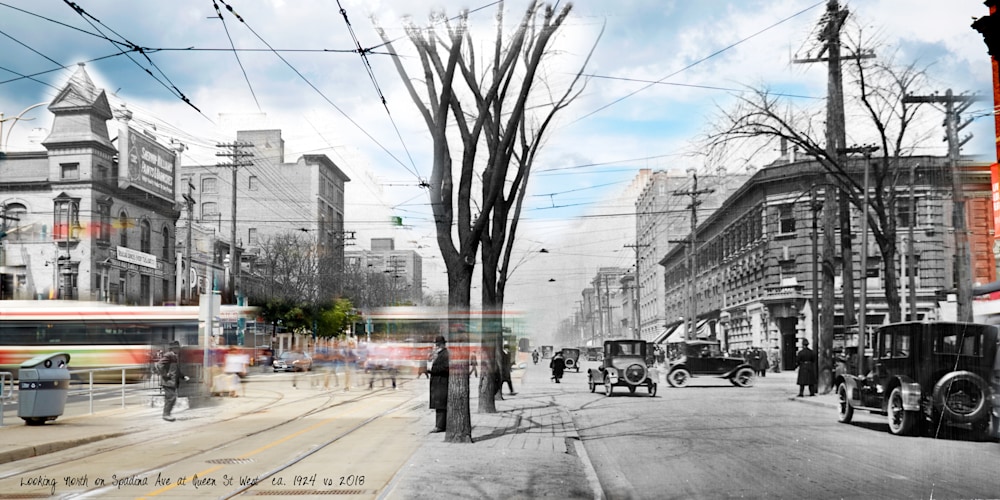 City of Toronto Archives, Fonds 1244, Item 1157
Whether you were born and raised in Toronto or are relatively new to this sprawling city, there is much to discover.
Where to begin?
I'll start with a bit about my own history and the path that led me to create Present Past. Then I'll share a few sources I've found along the way. It's inspiration came from a project I worked on in 1990 while at Ryerson. I was given an amazing opportunity to work with the City of Toronto Archives on the Nitrate Project. At the time three of us were selected to convert volatile nitrate negatives to a more stable base. With this project I was able to view a wide range of images from newspapers, city documentation and others. My curiousity was peaked and the next step was to create a dynamic visual which conveyed the history.
Over the years I would produce traditional re-photographic surveys but never fulfilled a more creative approach. The idea would sit in the back of my mind waiting for a creative solution. A few years back, I was showing my late father a few artistic series I had created. He then suggested I should create something of Toronto. With that I found a new determination which materialized as Present Past.
I've seen a lot of change in the city, buildings razed, built and even moved. I wanted to show a bit more about the history and changes that have occurred. Next was finding resources for imagery and history which I am about to share with you now.
First and foremost as a resource comes the City of Toronto Archives. With the advent of the web has come a great resource for anyone to search through, their website. It's not the easiest to sort through at times but I will create a future blog post with a few tips to help. On their site you can search images and order prints.
If you're looking to search specific streets or corners another site to visit is Oldto; Mapping Historical Photographs of Toronto. Set up as a grey map of Toronto, it's covered in dots to discover. You can zoom into whichever neighbourhood or intersection you like and click on the nearby dots. This will open a window with all the images related to that spot.
If you would prefer to read more about the history of Toronto then a great online series is Taylor on History . This site is full of historical information as well as personal stories of one who's lived and experienced the city as it once was. Accompanied by a great selection of images, you also get a personal view and historical recollection. You can search specific buildings, streets, theatres etc as well as a selection of books written by Doug Taylor.
If you prefer to browse images there are also more than a few pages on Facebook with collections of images. Here are a few to entertain:
https://www.facebook.com/Toronto.Old.Districts/
https://www.facebook.com/oldtoronto/
https://www.facebook.com/VintageToronto/
BlogTo publishes many articles about the changes and history of Toronto. A lot has been happening in the development of the downtown core and some older historical buildings are being revitalized. This needs to be championed as it shows developers are trying to retain our heritage and maintain it for generations to come. Explore the neighbourhoods and so much more.
For those who would much rather get out from behind a computer screen there are some options. ROMWalks are free and organized through the Royal Ontario Museum, all you have to do is sign up. There are options also for private and group walks as well. This season has already started up as of May 15th and will carry on until October. Check out the calendar for details and times. These are very informative and entertaining walks in some of the city's historical neighbourhoods.
Next weekend is another great opportunity to get out and see the city in a way you normally don't. Great Gulf is presenting Doors Open (https://www.toronto.ca/explore-enjoy/festivals-events/doors-open-toronto/) . An event which allows the general public access to areas of certain buildings not normally open to the public. It runs May 25th & 26th with information on the Toronto.ca website.
In the coming months I will look to share a bit more information about each of these resources. There are many more available, it's just a question of finding them.
The City of Toronto has a limited number of historical buildings and hopefully this will inspire you to explore more.